It's possibly the most fun color on the planet…PINK! Add a touch of it to almost anything (including food) and the wow factor automatically kicks in. 
Here are recipes for  a few dishes that aren't typically a shade of pink–but somehow these resourceful bloggers came up with a way to make it work.
Who wouldn't love to wake up to this sweet breakfast treat? These Pink Ribbon Cinnamon Rolls are easy to make–Christi of Love from the Oven whips up this amazing recipe using a cake mix along with a few other ingredients.
Meet the sweet sister to red velvet cupcakes~Pink Velvet Cupcakes. Audra from The Baker Chick advises you to go all "pink and sparkly" with these. Her friends loved them!
Pink M&Ms are the top secret ingredient in Ali Bee's Bake Shoppe recipe for Pink and White Chip Cookies. These moist and fluffy treats look too good to pass up.
Check out the Strawberry Pecan Fudge that we found on Dear Crissy. It  looks almost too lovely to eat and is made using only 3–yes 3–ingredients. It just doesn't get much simpler than that!
KC came up with the recipe for her Pink Delight to serve at her family's New Year's Eve celebration–but this pretty drink can be enjoyed any time of the year. She made it non-alcoholic so the whole family could enjoy it, but says you can add to sparkling champagne to kick it up a notch for the adults.
She had me at the words "No Bake" :)  Take a look at the No Bake Strawberry Milkshake Cheesecake recipe that Lindsay is sharing over at Life, Love, & Sugar. A quick and colorful alternative to a traditional cheesecake that can require quite a bit more effort.
It's starting to feel like soup weather around here, so I may need to try the Pink Soup with Roasted Onions and Broccoli from the Golubka Kitchen. In all honesty, I don't think I've ever seen a more beautiful soup…a feast for the eyes and the appetite!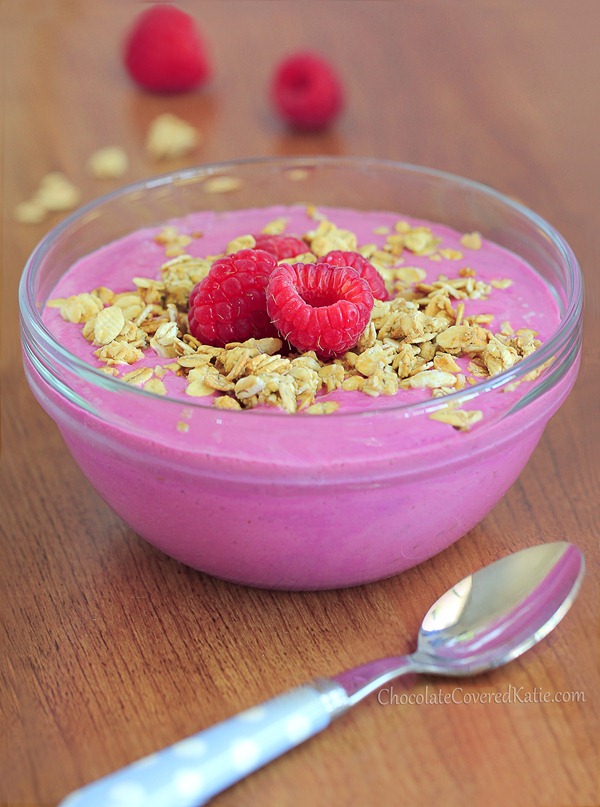 Chocolate Covered Katie has got a great way to start off your day…raspberries reign supreme in the recipe for her Yogurt Breakfast Bowl.  Just mix up  a few ingredients in your blender and you're good to go!
Like playful recipes to celebrate the season? We love sharing our finds. Don't want miss out on our future features… simply sign up to receive these blog post in your inbox.