There's so much to love about the Easter season–beautiful pastel colors, fresh flowers, warmer weather, and delicious desserts! Why not try your hand at making some homemade sweet goodies this year?
Check out these easy recipes that we found for you to serve at your Easter brunch or help out the Easter Bunny and sneak one of these sugary sweets into a  basket for someone special…
 What's better than a Cadbury creme egg? Cadbury Brownie Bites, of course! Just imagine the gooey sweet surprise you'll get when you bite into these delicious brownies.  Head over to Deliciously Sprinkled to see Jennifer's recipe.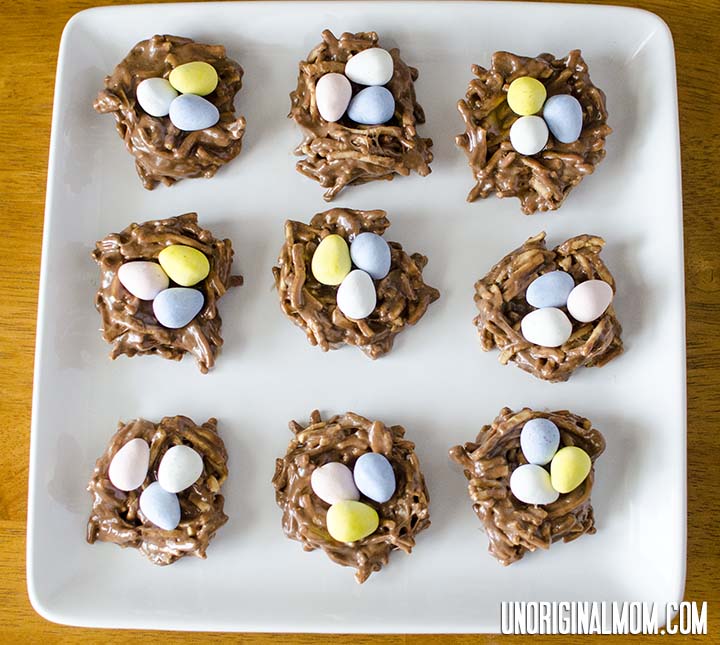 Have you ever made those haystack candies from chow mein noodles? Here's the Easter version–Chocolate Peanut Butter Nests.  Meredith from Unoriginal Mom adds that you can fill them with whatever you like.
Does it get any cuter than this? Find out how to make these incredibly adorable Oreo Bunny Truffles over on the Key Lime Blog. These confections are perfect for tucking into your little one's Easter basket!
Pick up a bag of Robin Eggs at the store and you will be able to whip up these Robin Egg Magic Bars before the Easter Bunny arrives. This delectable dessert features layers and layers of gooey goodness.
Pop a few Peeps on a  straw, dowel, or lollipop stick and you've got a Peep Ka-Bob.  Simply Party even has a printable tag that you can attach with a festive ribbon.
We think your Easter Brunch guests will love sinking their teeth into this creamy Coconut Custard Pie (it's all dressed up for the occasion!).  Ready to make one for yourself? Get all the details on the Kitchen Magpie Blog.
To many of us, food means memories.  Laura from Tutti Dolci  describes how her grandmother always made Orange Rolls on Easter. She said they were the highlight of the menu for her.  Start your own family tradition and serve these up this year. You'll find all the instructions here.
Like sweet recipes that taste get wows?  We love sharing our finds. Don't want miss out on our future features… simply sign up to receive these blog posts in your email in box.