Everyone loves getting mail (we're not talking bills here!)–you know the handwritten kind. The kind that means someone actually took the time to sit down and write something special.
In this age of technology, this is something that has definitely gone by the wayside (it's so much easier to type out a quick email)…so, just imagine the delight on the face of your friend or family member when they open up the mailbox and discover that you've sent them something extraordinary !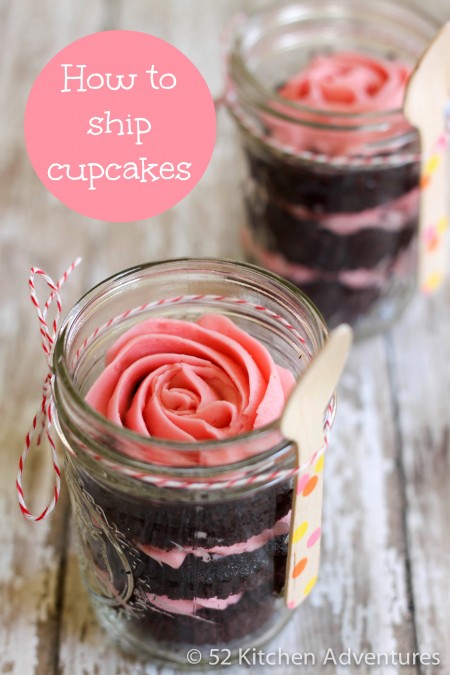 Who wouldn't love this sweet treat in their mailbox? Head over to 52 Kitchen Adventures to read all about how easy it is to ship cupcakes.
The gals over at Hey Wanderer can show you how to turn your old magazines into envelopes. Click here to get the scoop on this easy craft.
Your handwriting is a something that you can truly call your own. Brush up on your lettering skills before you sit down to write a note to that special someone. You can also use your fancy fonts to adorn the outside of your envelope. Diane from In My Own Style also shows you to how pick a pen and create shadows for your lettering.
Send someone the gift of soft, supple lips this winter  by making this cool note to wrap right around the lip balm itself. According to AmberLee from the Giver's Log, you can then just drop it in the mail as is–no additional packaging required.
Did you know that you can mail a ball? Simply write your own message on it and take it to your Post Office. This delightful idea is courtesy of Allison at The House of Hendrix.  She calls it "happy mail" and we definitely agree.
Who needs an envelope when you can send a Message In a Bottle? We found this clever concept over on the Playdough to Plato Blog. Drop someone a simple note or use this cool idea for delivering an invitation to a Pirate themed birthday party.
We've personally pushed the envelope (so to speak) when it comes sending bizarre things.  We like to make our firefly team smile and won't a pink party invite on a shoe do just that?
A pack of markers makes for easy sending too!  Who wants to cover up all the color with a brown padded envelope?
For inspiration we recommend walking around a thrift shop or dollar store and see what you could send.  We've sent frisbees, flip flops, paper plates and more.  Unfortunately not all these plastic wine glasses made (I was warned) but some did and who wouldn't smile to find one of these waiting for them with an invite to meet a friend for some much deserved drinks?
Like to make this world a little brighter?  We love sharing our finds. Don't want miss out on our future features… simply sign up to receive these blog post in your inbox.