Feeling the stress of the long winter season? Winter has hit so hard in many parts of the country…now is the perfect time to wind down and enjoy a little "me" time. These  DIY Detox Bath Recipes are not only easy to make–they're relaxing and beneficial for your body. The common ingredient in all of them, epsom salts, is rich in magnesium and is known for its detoxifying properties.
You'll more than likely enjoy a better night's sleep after using one of these and will wake up feel more refreshed than ever… it's time to turn off the cell phone and try one of these tonight!
Feeling a little under the weather? A Ginger Detox Bath may be just what you need. Vanessa from Tried and True suggests soaking for at least 45 minutes to get the most benefits (and don't forget to hydrate yourself after your bath).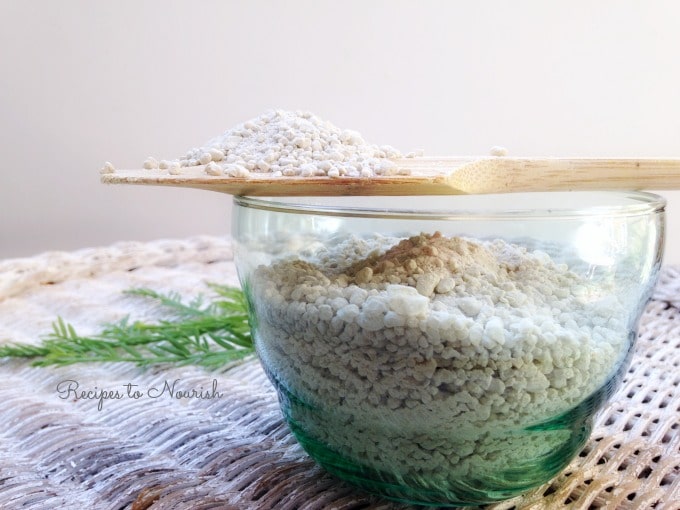 We found this DIY Calming & Detoxifying Bath Salts Recipe on the Recipes to Nourish Blog. It's loaded with lots of natural ingredients that will soothe your mind + body. One cup of this  in your bathwater is all you need to enjoy and start enjoying the benefits of your healing bath.
Adults aren't the only ones that can reap the rewards of a detox bath. The Paleo Mama explains exactly how to flush out toxins and promote sleep and relaxation by just using the correct dosage in your kid's bath.
Fight off an oncoming cold or flu by following the directions that we found on Beauty Bets. Hydrogen peroxide, an anti-bacterial and anti-viral, is the kick-starter ingredient in Elizabeth's detox bath.
Ashley from Simply Designing included one of her favorite scent into her mix…vanilla! Her aromatic Bath Salts also incorporate the healing properties of baking soda and epsom salt.
Dana's Refreshing Orange Green Tea Bath Salts are both moisturizing and contain anti-oxidants to benefit tired skin. Store this in your fridge and it will last a long time (and ready for you to rescue you at a moment's notice).
Blah Blah Magazine has the perfect recipe for releasing super stubborn body toxins. Bele's fragrant homemade body scrub is infused with lemon and honey–what a sweet way to relax your muscles and release toxins from your system!
Like to create simple simple recipes that bring  relaxation in your life?  We love sharing our finds. Don't want miss out on our future features… simply sign up to receive these blog post in your inbox.