Whether it's a twinkling string of lights or a glowing lantern, there's just something so magical about outdoor lights.
These unique and clever DIY Outdoor Light projects will not only light your way, they'll add that extra special element of style to any outdoor space….
These DIY Paper Punch Luminaries would look so nice lining a porch or driveway. You will find the instructions on the Design Improvised Blog and Haeley used LED battery powered pillar candles (then you don't have to worry about a fire hazard).
Now is the perfect time to score a couple of wire planters on sale that you can use to make this gorgeous glowing orb for your own moon dance this fall.  From the Blue Shed walks you through this easy process step by step.
Can you guess what Cheryl used to make these DIY Solar Lights? Spice jars and glass paint! Head over to her blog, Cheryl Style, to get the lowdown on this budget friendly project.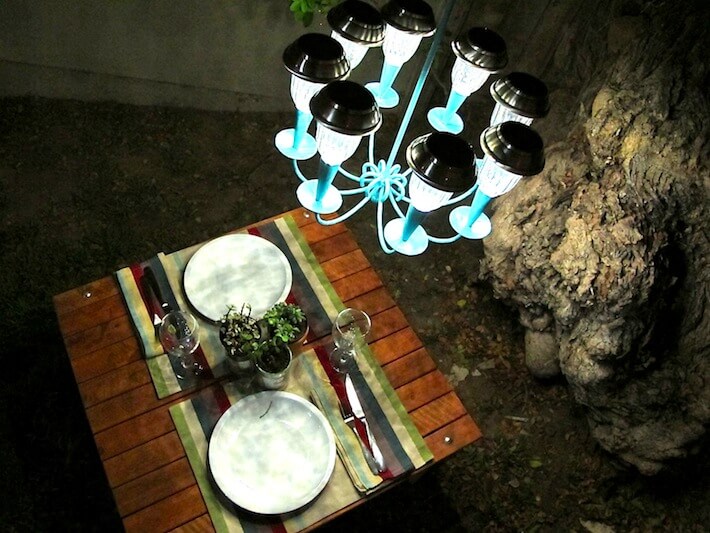 No need to stop enjoying dinner on the deck when the days get shorter.  Grab a bargain chandelier at a thrift shop and transform it into a stunning solar light source.  Hop over to Home Jelly for all the details.
Check out this DIY Constellation Jar . It was made using a few items that you probably already have around the house. This fun project from Design Mom is completely customizable–add your favorite constellations or come up with your creative designs.
Next time you whip up a batch of tuna salad, don't toss that can…Diane from In My Own Style can show you how to transform it into an Outdoor Tuna Can Lantern. They're a more refined alternative to tiki torches and come in well under budget at $2.70 each.
Here's another spin on the can idea….this time with a coffee can. Nicole from 365ish Pins made these DIY Tin Can Lanterns with her homeschool co-op when they were studying colonial life, but we think they'd look absolutely outstanding at any outdoor party too!
It's really amazing how adding something simple can create a whole new mood. A perfect example is this dressed up strand of white lights that Lia created– her DIY Paper Foil Starry Lights add all kinds of ambiance to any setting. She shares all the details on her Handcraft Your Life blog.
Like creative ideas that will brighten your life?  We love sharing our finds. Don't want miss out on our future features… simply sign up to receive these blog post in your inbox.